ROASTED RACK OF PORK WITH A ZINGY APPLE AND CIDER SAUCE: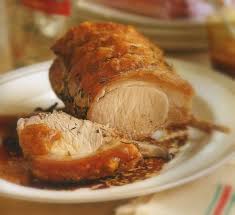 As usually intended, this recipe is easy to do. Furthermore it does also look impressive on the plate and the Apple Sauce should endear even those who reckon pork isn't their thing. Add to that the fact that pork is cheap compared to lamb and beef, and is actually a very healthy meat to eat.
You can do this rack for nearly half the price it would cost to do the same with Lamb, and 30% cheaper than with beef. AND !! you get the crackling, which is one of life's pleasures, and perfectly acceptable now that saturated fat is back in fashion !!


PREP TIME:- 15 MINUTES
COOKING TIME: 80 minutes.

INGREDIENTS:- (for 4 to 6 people):

One Pork Rack, with 4 or 6 cutlets, depending on the number of diners. Ask for a rack with skin on for the crackling. For the Sauce: 2 tart cooking apples, peeled, cored and cut into segments, 1 Tbsp of Brown Sugar, 1 Tbsps of hot English Mustard, 1 Tbsp of Soy Sauce, 300ml of Cider, 1 x Meat Stock Cube, 1 Tsp of Dried Ginger, 1 Tbsps of Butter. Salt and Pepper to taste.

METHOD:-

FOR THE PORK RACK: Have your Butcher make sure that there is skin on the Pork Rack to ensure you have some Crackling ( itf there is none already). Make sure it is well scored. Dry it out, spead a little oil on the skin and then salt it well, rubbing it in. Seal the ends of the joint in a hot pan. Transfer to a shallow roasting tray and place on a trivet or atop a sliced apple to raise the joint and thus ensure good air circulation . Start the oven on 200degC for about 20 minutes, then drop the temperature to 180degC and cook for a further 60 minutes. Ensure the crackling is done, and if not up to scratch then finish it off under a hot grill. Put to one side to stand for 10 to 15 minutes before serving. I would serve this at the table, and would first remove the crackling by sliding my knife underneat the skin to remove it, then chop it up into serve sized pieces. Then carve a cutlet off for each person, and serve the crackling at the side of the cutlet.

FOR THE APPLE SAUCE:- In a frying pan, melt the butter and place the apple pieces in the hot butter, then coat with the brown sugar and allow to pan fry until the apple is nicely brown and caramelised. This will take about five minutes. Then add the cider and crumble in a stock cube and boil to reduce to about 150ml, or half what you started with. Add the soy sauce, ginger and hot mustard to the sauce and cook for a further few minutes on a lower heat to incorporate all the flavours. The apples should be nice and mushy by now. Taste the sauce for seasoning and add salt and pepper to suit. If the sauce is too lumpy for you, then break it up with a fork to get a coarse texture. Serve next to the pork or dress over it.

Serve with Roasted Potatoes (put alongside the pork), or Mashed Potatoes. And for veggies, I would keep it simple, maybe some Peas or Green Beans. The Pork needs to grandstand alongside the Apple Sauce, so make sure the rest is background noise..

AND TO DRINK: One of those occasions where you could drink white or red, so just drink whatever you fancy...