TWICE COOKED WHOLE BEEF EYE FILLET: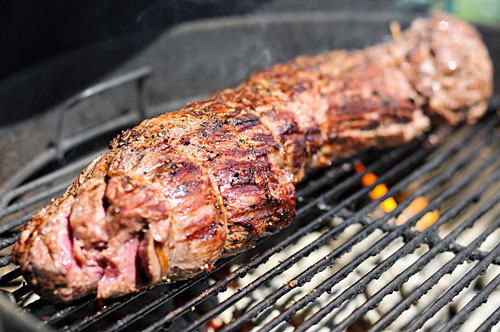 This recipe is very straightforward to make, although it does take some time to prepare and cook, and also needs a degree of control from your oven setting due to the low heat. Nevertheless, it is very easy to do and the results are outstanding, so please do give it a go. You may prepare it well in advance and leave the last step for the last minute.


PREP TIME:- FIRST PREP: 5 MINUTES PLUS MARINADE TIME OF 2 TO 12 HOURS, SECOND PREP: 5 MINUTES
COOKING TIME FIRST COOKING 3 TO 4 HOURS. SECOND COOKING 5 MINUTES.

INGREDIENTS:- (for 4 to 6 people):
One whole Beef Eye Fillet (approx 1kg), 3 Cloves of Crushed Garlic, 3 Tbsps Balsamic Vinegar, 1/2 cup Olive Oil, 1 Tbsp dried Rosemary and the same of Thyme, 2 Tsps Cracked Black Pepper, 1 Tsps Salt, 1 Tsp Soya Sauce, 1 Tsp Worcestershire Sauce and 2 Tsps of liquid Honey.

METHOD:-

Take a sealable plastic bag and throw in all the ingredients apart from the Beef Fillet. Mix those ingredients around until they are a paste, then put in the Beef and shake the bag around until the beef is nicely coated. Seal the bag and leave it in the fridge overnight. If you don't have that much time available then leave it out in ambient temperature for a couple of hours.

Pull out a shallow roasting tray and preheat the oven to a tepid 70degC...yes that's only 70degC.

Take the Beef out of the marinade and place (without shaking or rubbing down) in your warmed up roasting tin, and put it back in the oven for about 4 hours.

At this point the Beef should be cooked through to 70degC (enough to have killed off the bacteria and actually leaving it just rare). It will be lovely and pink all the way through. At this point you can wrap your meat up and put it away for a day or so if you wish, as the final cooking is quick and easy.

For the second cooking, preheat the BBQ or put a little oil in the bottom of a heavy frying pan. Heat it up to hot. Meanwhile season the Beef again. Pan fry or BBQ the beef to brown it up on all sides for a few minutes total.

Remove from the heat and let it sit for 10 to 20 minutes.

Slice and serve.

SERVE WITH: You could easily cook up the marinade in a pan with a little red wine and make a sauce to go with the meat. Perhaps thicken it with a little cornflour and milk mixed together. Check for acidity and if too sour, then add a little more honey.

The centrepiece of this dish is definitely the meat, so don't overdo the veggies or carbs. I would keep them simple..a tomato salad springs to mind. A nice way to do this is by using good tomatoes, where you slice a couple and grate one to get at the flesh, discarding the skin, retaining the pulp, which you then season and splash over the top of the sliced tomatoes, garnishing with chopped fresh basil, olive oil, lemon juice, cracked black pepper with some salt and a pinch of white sugar.

As for carbs, if you are using the marinade as a sauce then good mashed potatoes would go well, or you could do roasted potatoes (but you would need a separate oven for them), or perhaps a potato salad or even a pasta salad.

AND TO DRINK: deep, complex red wine...as expensive as you can afford to complement the meat...probably a blend...cab sav/shiraz, or pinot noir...as long as it's a big hitter.