Honey Roasted Moghul Lamb Leg

.
A lamb leg meal prepared for the Indian Moguls, with my own twist....Prep 20 mins plus 24 hour Marinade. Cooking Time 110mins. Feeds 6 people.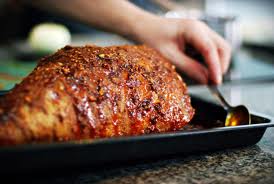 INGREDIENTS (for six people)

:-
One Whole Lamb Leg. 100g Crushed Almonds, 100ml Greek Yoghurt, 1.5 tbsp of Honey or Maple Syrup.
For the
MARINADE
: Vegetable Oil +/- 2 Tbsp, Juice of 2 Lemons, 15g finely chopped ginger, 6 cloves of finely chopped garlic, 1 Tbsp each cumin and coriander and garam masala powder. A tbsp of water, some salt and a 1/2 teaspoon of ground black pepper, 1/2 teasoon Cinnamon and two pinches chilli powder.
METHOD

- For the Marinade:-
Mix all the marinade ingredients together in a bowl. Take the Lamb Leg and make deep cuts into the flesh all over the lamb. Rub the lamb with the marinade, pushing it into the cuts. Place marinade and lamb leg in a plastic bag and put in the fridge for 24 hours. Or leave out of fridge at room temperature for at least 6 to 8 hours.
METHOD

-For the Lamb
Mix together 2/3 of the crushed almonds, 2/3 of the honey, and all of the yoghurt. Remove the lamb leg from the Marinade and apply this mixture all over the lamb leg. Place the leg atop a slatted tray (trivot) in a roasting tray in a preheated 220degC oven. Or cook in the BBQ with a closed hood, away from direct flame. Cook on this high heat for about 10 minutes, then reduce the heat to around 180degC and cook for a further 90 minutes. IMPORTANT: keep basting the lamb with the cooking juices in order for the honey not to burn !! When nearly done, remove lamb from oven or BBQ and scatter with remaining almonds and drizzle over the remaining honey. Return to oven or BBQ for a further ten minutes. Retain cooking juices as gravy. Let sit for 15 minutes before carving.
OPTIONAL:
You can make a sauce with the marinade by slowly cooking in a pan for 20 minutes. Taste for seasoning and adjust as necessary. Add a little more honey to it as well.
If you are doing this on the BBQ which is entirely possible, you will need to have some good temperature control. Use a meat thermometer to see if it's done (75degC internal should do it).
SERVE WITH:
Plain boiled long grain rice or perhaps some Rosemary Infused Mashed Potatoes. Simply cook the potatoes with a big sprig of Rosemary which is discarded prior to mashing. Roasted Red Capsicums or Roasted Fennel Bulbs would go well with this dish, but keep the veggies simple as the meat has heaps of flavour which is fairly deep and complex.
SERVE WITH: A full bodied red wine, such as a Cab sav, a Merlot or Shiraz.

NOTE: This dish was eaten by the Moguls (the Indian Princes) as a celebratory meal. It combines their favourite and most expensive spices and meat...And if they were eating Lamb on their big day, then we should too....