Easy GUACAMOLE :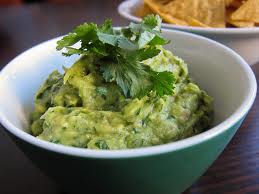 Most people have their own Guacamole recipe and mine is a combination of my own ideas and suggestions from friends over the years. For me the most important feature of a good Guacamole is the texture and the look...as green as possible. The flavour is largely up to you and your own family's taste buds. But here's my favourite recipe:-

INGREDIENTS: for 6 people. Two ripe (but not brown) avocadoes, a quarter of a green capsicum, two green shallots (spring onions), one green chilli (deseeded), juice of one big lemon, small bunch of coriander, chilli sauce to suit, salt and pepper, big dollop of mayonnaise. Coriander to garnish.OPTIONAL: a clove of garlic, half a diced fresh tomato( I never bother).

METHOD:- In a blender, make a paste with all the ingredients except for one of the avocadoes. It should be smooth with no residual lumps of shallot or coriander. The mayonnaise helps achieve this. Check for seasoning. At this stage I almost always add more chilli, lemon juice, salt or pepper.
If your remaining avocado is nice and ripe, then scoop it our into your serving bowl, then empty the paste from the blender into the bowl and, with a fork, slowly work the rest of the avocado through the mix. This is done in order to arrive at the correct texture, as it should not be too smooth and pasty. However if your avocado is not spreadable as it is not quite mature enough, then you must add it to the blender and use the pulse button to blend it into the mix without leaving it lumpy or overly pasty.
Check again for seasoning (very important). Garnish with coriander or parsley.

The lemon juice in the Guacamole will help preserve it for up to a week in an airtight container in the fridge.

SERVE WITH:- An ice cold beer, toast, wraps, tortilla chips (the best of all), or anything else you may have lying around in the pantry cupboard..