Mexican Wraps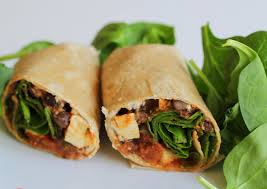 This is the perfect solution to balmy weather..quick tasty finger food that each can assemble to their own taste !!! It's all about preparation which can be done well in advance and warmed up prior to final assembly....


INGREDIENTS (for four people):- 1 pack of tortillas or leb bread, or any of your favourite wrap material, 700g beef mince (or lamb if you prefer), or buy a tray of our new Mexican Meatballs, 1 can of red kidney beans, 1 can of diced tomatoes, 2 diced fresh tomatoes, 3 roughly chopped shallots, 1 finely chopped green chilli, 1/2 cup of thickened cream, guacamole (see below), a cup of grated cheddar / manchego / provolone cheese, chilli sauce, parsely or coriander to garnish, juice of a lemon.


METHOD-
1/ Get my special red kidney bean sauce on the go..by emptying a can of drained red kidney beans and the can of diced tomatoes into a pan (add a little water if too heavy), and place on a medium gas ring with the lid off to reduce down slowly. This will take around 20 minutes. When reduced to a thick paste, add some chilli sauce to suit (not a lot as people can always add heat later), a big long squeeze of lemon juice and the thickened cream. Stir to combine and put to one side. It should not be runny.

2. For the meat:-
A. If you are using our Mexican Meatballs, then flatten them slightly and fry in some oil until browned and cooked through, say 4 minutes a side over a medium to hot gas ring.
B/ if you are using your own mince, then fry it in a pan with some oil and the finely chopped green chilli, making sure it is not too lumpy by using a spatula to break it up into loose mince. This should take no longer than ten minutes. Put to one side.

3/ For the other ingredients, firstly roughly chop up the shallots and mix in a bowl with the chopped fresh tomatoes. Put to one side.

4/ In another bowl place the grated cheese, which can be any cheese that you like as long as it has good flavour.

5/ Place the Guacamole in another bowl.

6/ When ready to serve place the mince in one bowl and the red kidney bean mix in another.

7/ Take the wraps out and warm though in a microwave for around 60 seconds. This has to be done just before serving.

TO SERVE; flatten out a warm wrap, spoon a thin layer of Guacamole over half the wrap's surface area, add some cooked mince (or a couple of flattened meatballs), then a layer of kidney bean mix, some tomato and onion mix, a dash of chili sauce, then some grated cheese and finally a little parsley or coriander garnish. Roll up and eat immediately !!!!

WARNING ! One wrap is never enough even for the abstemious as the flavour combo really gets the taste receptors going into overdrive, sending messages of yumminess to the brain which in turn obliges by recommending you eat more !!!


SERVE WITH: Nothing other than a cold beer or glass of white wine..something fresh and light, such as a Classic White, or a Cab Sav. This is a complete, healthy and balanced meal delivering a perfect balance of proteins, carbs, fresh veggies and fibre.