OLD FASHIONED ITALIAN SAUCE FOR PASTA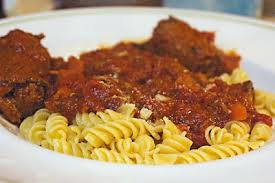 This recipe was submitted by Francis Papalia, whose family has been making this traditional pasta stew/sauce for many generations. It is certainly NOT one that you would find in a recipe book, but the ingredients are fantastic and make the most deliciously rich, unctuous sauce, with fabulously deep flavours and textures. And I thank Francis for allowing me to print her Grandma's recipe.

INGREDIENTS (for 12 portions):- 6 pigs trotters cut across into three pieces each (THIS IS A MUST), 3 big chunks of gravy beef (say 1kg), 4 x lamb shanks, again cut across into threes, a couple of large onions, chopped, a big cup of red wine, a couple of bayleaves, a tbsp of tomato paste, a tsps of sugar, salt and pepper to taste, about one litre of stock (beef or chicken).


METHOD-
1/Brown all the meat in olive oil or dripping fat in a large pot. Remove and gently fry the onion. Add the wine, tomato paste and stock and deglaze the pan with it, before adding back the meat. Check for seasoning and also add the sugar (a little more or less as you prefer). Let it simmer gently on the stove top, or in a slow oven (110 degC) for at least five hours.... YES five hours minimum. You need to stir it from time to time...

At the end of this time, you should have a rich flavoursome gravy.

The meat is often removed from the sauce at this stage and served separately.

The sauce, or gravy as it is known, now forms the base for all sorts of dishes. Meatballs are often thrown in the sauce for the last hour for example.

OPTIONS:
You really can play around with this one if you wish, but I would not like to take anything away from Francis' dish which is absolutley fine on its own.

HOWEVER, you may add a few cloves of garlic, some oregano, some veal shoulder, or some Italian sausages (towards the end), or a big lump of Spec, or a can or two of tomatoes,

TO SERVE; Serve the sauce with pasta and serve the meat on the side. Or cook up some meatballs in the sauce and serve again with pasta. You can take the meat off the pigs trotters before serving if your guests are squeamish. If you are against fat, then throw the trotters away as they will have worked their magic by then anyway.

SERVE WITH: A glass of Italy's finest red springs to mind...A Chianti I suppose, but then I would prefer the big hitters, such as a Nebiolo or a Barolo, as these wines have more depth and Umph for me, and you will need it to help digest that lovely sauce, as those red wine enzymes help your stomach cope with the meat proteins and any fats consumed..an essential remedy for any red meat in my book....