CURRIED OXTAIL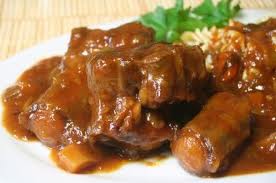 The idea for this recipe was inspired by my sister, who cooked up the stickiest, tastiest oxtail recipe ever the other day. The options for you are endless with this dish, providing you follow the basic steps...slow cook and render the liquid down....so here goes with my take on it....

INGREDIENTS (for 4 people):- One whole oxtail cut into rounds. One large onion finely sliced or grated, two garlic cloves finely chopped (or garlic paste), two chopped carrots. A curry paste needs to be made, and you can EITHER go Asian OR Indian with your curry paste. Four large potatoes cut into big chunks. 500ml of decent stock (chicken or beef). Coriander to garnish.

For an Asian Curry, put two lemon grass stalks, a bunch of coriander, two tbsp of fish sauce, the juice of two limes, one tbsps brown sugar, one tsps of shrimp paste, two green chillis and a big lump of galangal or ginger in a blender to make a paste, or cheat and buy a ready made sauce from the supermarket.

For an Indian Curry, make a paste with some grated onion and garlic, a grated big lump of ginger, all of which is fried off in the pan, to which you then add two tbsps of cumin, the same of ground coriander, one tbsps of turmeric, a large cinnamon stick, small tsps of ground cloves, one tbsps of ground fenugreek if you have it, two red chillis, one tsps of ground cardammon and two large tbsps of tomato paste and fry this up again for a few minutes. Add a little liquid to soften and bring off the bottom of the pan.


METHOD-
1/Brown all the Oxtail meat for a few minutes in hot oil in a decent sized frying pan.
Remove and add to a large cooking pot.
In the same pan fry up the onions, carrot and garlic to soften and brown a little and then add to the pot.
Fry off your curry paste, whether Indian or Asian, with a little oil in the pan, taking care not to burn it. After a few minutes add your stock and deglaze the pan with it. Check for seasoning and add this liquid to the oxtail rounds. You should just about cover the meat with liquid, so add some seasoned water if necessary.

Slow cook, lid on, in a 140degC oven for about four hours, or until the meat is falling away from the bone. During this cooking time the collagen in the oxtail converts to gelatin and this makes the meat really sticky and unctuous....this is what you are after for the perfect oxtail stew.

ABOUT one hour before the end of cooking add the potatoes to the pot. If there's too much liquid then remove the lid for the last hour. Ensure the potatoes are covered by liquid.

REDUCTION: at the end of cooking, when the meat is soft, take it out, put to one side and reduce the cooking liquid on a high gas heat on the stove top until you have just enough for four people. This will instensify the flavours within.

Reintroduce the meat and keep warm until ready. Garnish with chopped coriander, and chopped fresh chillis if desired..

TO SERVE; Serve the curry with rice, or if not, then some Naan bread.

SERVE WITH: an ice cold beer, or if wine is your tipple, then a clean, crisp sav blanc....