TOMATO TOAST & SERRANO HAM (WITH OPTIONS): for 4 to 6 people...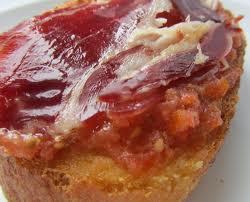 INGREDIENTS:- A French style baguette or stick, cut into rounds and toasted. 3 slices of Serrano ham, two ripe tomatoes, one clove of garlic, salt, pepper, good Olive Oil.

METHOD: Scrape the raw garlic along one side of the toast. Grate the tomatoes with a cheese grater on the coarse setting into a bowl ( the more mature the tomato the easier this is to do). Chop the Serrano into pieces that fit the toast. Slop some tomato onto the toast, season with salt and pepper, drizzle with Olive Oil and place some Serrano Ham on top.

OPTIONS: If you don't have Serrano, then use normal ham, or Italian Parma, or even Devon (if you have to).

TIP: don't leave it too long without eating or the toast will go soggy.