PICKLED ANCHOVIES AND OLIVES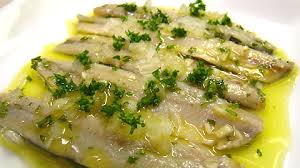 INGREDIENTS: 2 or 3 tubs of our "Pickled Anchovies", officially known as BOQUERONES. 3 cloves of finely chopped Garlic. 1 small bunch Parsley. Half cup of Olive Oil.

METHOD:- Empty the tubs (including liquid) of Boquerones into a shallow bowl. Decorate with chopped parsely, garlic and add the olive oil. Allow to marinate like that for at least an hour or so before serving. Will keep with lid on in the fridge for over two weeks. Serve with large Green Olives and slices of crusty French sticks to dip in the oil and vinegar from the Boquerones. These little darlings of the sea are our favourite at home. When my son was about 10 or 11, and we had been ski-ing overseas, the first thing he wanted when he got back to Spain was a big bowl of these tasty morcels...and jolly good for you they are too !! You may buy them at our shop or online.