SMOKED SALMON & FETA CHEESE PINCHOS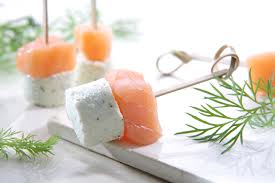 INGREDIENTS: For 4 to 6 people. 100G of Smoked Salmon, 100g of Feta or Haloumi Cheese (traditionally made with Queso Fresco - Fresh Cheese- but Feta is a good substitute). Optional pitted green olive.

METHOD:- Cut the smoked salmon into two inch squares and fold over and then thread onto the cocktail stick followed by a piece of feta, or a pan fried and browned piece of haloumi, finished off with a green olive if using!!