SWEET AND SOUR BRAISED CHORIZO : for 4 to 6 people...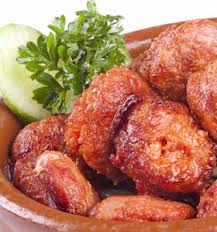 INGREDIENTS:- Three mild whole Chorizo, a cup of cheap balsamic vinegar (red wine vinegar would do), two tbsps of sugar and a cup of water.

METHOD: Place the chorizo in a shallow braising dish, mix the vinegar, sugar and water together and pour over the chorizo which should be submerged, so add a little more vinegar and mainly water until you have them covered. Bake in a medium 150degC oven for about an hour.
Remove, slice and serve with sliced lemon and bread....
WARNING: these are really YUMMY !!