CRISPY MUSSELS IN THEIR SHELLS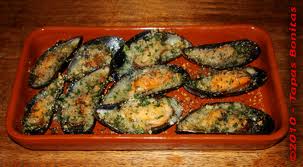 INGREDIENTS: For 4 to 6 people. 500G of Black Tassie Mussels (do not use the Kiwi Green Lips), 3 bay leaves, two cloves Garlic roughly chopped, 8 whole black Peppercorns, a handful of finely chopped Parsley, a big handful of chunky Breadcrumbs.

METHOD:- Discard any mussels that are already open, or that do not flinch when poked with the end of a sharp knife. It is a myth that opened fresh mussels are no good..as they are often open and still very much alive. They do open when they are dead, which is where the advice to discard comes from, but testing them for movement with the end of a sharp knife will reveal whether they are dead or alive. Discard if dead. Remove the beard from the mussels (that seaweedy bit that it hangs on with), and any other shellfish that may be living on the shells(optional), and give them a wash in cold water. In a large pot with a tight fitting lid, throw in the peppercorns, the bay leaves and the garlic and then throw in the mussels. Turn the gas heat right up and leave the lid on (resist looking) for about three minutes. Shake the pan around and return to the heat for a further two minutes. The mussels should just have opened and released their juice or liquor. Strain off the liquor and keep it in a jam-jar for adding to any fish sauce, soup or stew that you may be using (I often throw it in with my scallop dishes). The mussels should NOT have shriveled up, and should be firm and juicy. Remove half of the shell from each mussel and arrange them on an oven tray, sprinkle parsley and breadcrumbs on top of each mussel and finish off for a couple of minutes under a hot grill, just enough to brown the breadcrumbs, but not enough to cook the mussel much more. These may be served straight away or may be kept and eaten cold, or warmed up just before eating in a hot oven for a couple of minutes.

OPTIONS: Forget the breadcrumbs and serve straight from the pan. The best mussels are the black Tassie ones as they fill the shell and are more tender.