PIMENTOS DE PIQUILLO (ROASTED RED CAPSICUMS) STUFFED WITH TUNA MIX: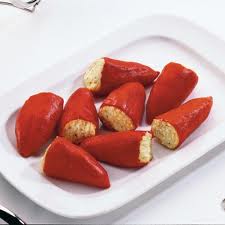 This simple dish is actually quite sophisticated, dead easy to make and impossible to have only one of. The secret is to use Spain's most tender, sweet, roasted red capsicums, AKA "the Piquillo"(literally means "little one"). These are a coveted delicacy in Spain...and people that have tried them from our shop often comment on how delicious they are...with the bonus that they are extremely versatile and can be used in all manner of dishes, from salads to stews, roasts, stuffings, on bread with olives or anchovies....you name it...

For 4 to 6 people...

INGREDIENTS:- Half a can of Pimentos de Piquillo (sold here at the shop), one large tin of tuna, 2 shallots or spring onions, parsley, salt and pepper, 1 tbsp of mayonnaise..

METHOD: ln a bowl mix the tuna, finely chopped spring onion, finely chopped parsely, mayonnaise and season to your liking. Stuff this mixture into the capsicums and roast in a hot 180 to 200degC oven for about 7 minutes. You may eat this warm or cold.

Option...in Spain these little lovelies are often stuffed with chopped squid, garlic and parsley, bound together with a Bechamel sauce, which is also used as a garnish upon serving, having added a little reduced seafood stock and tomato paste, although you could use fish sauce instead.

I bet you can't eat only one of these !!