HERB CRUSTED SIRLOIN/NEW YORK ROAST: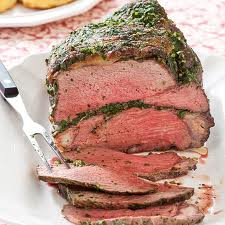 With decent sirloin on at only $11.99/kg, it seems silly not to make a nice roast out of it, and to then liven it up with a tasty herb crust...absolutely simple to make and cook:- PREP TIME 15 MINUTES, COOK TIME ABOUT AN HOUR, depending on how well done you like your beef.

INGREDIENTS (for 6 people):- 1.5kg Sirloin/New York Roast. 1/4 tbsp of Paprika or Sweet Pimenton, 1 tbsp of crushed garlic,(pounded into a paste with rock salt) 1/2tsp of onion powder (or leave out if you don't have any), 1/2 tsps of chilli powder, 1 tsp of dried oregano, 1/2tsp of dried thyme, 2 tbsp of olive oil (some fine breadcrumbs to mix in if you have difficulty making the herb crust stick to the sides of the roast). 1/2 tsp of salt and same of ground black pepper (or to suit).

METHOD FOR ROAST:-
Place all the ingredients except the meat in a bowl, mix together and allow to stand for 15 minutes for the flavours to develop.
Meanwhile, seal the roast in a hot pan and brown the edges, then allow to cool so that the herb mixture may be rubbed into it. If it is not sticking as you would like it to, then try putting some ground almonds or fine breadcrumbs in the mix to stiffen it up a little.

Put the roast in a shallow sided roasting tray and roast in a hot 180 to 200degC oven for 45 to 70 minutes depending on how you like it. Use a stick thermometer if you have one to find out if it's done. For rare it should be 65 to 70degC.

TO SERVE; Should really be with roast potatoes next to the meat...and I would also do roast vegetables (which I have described and banged on about on several prior occasions)..ideally a mix of red capsicums, onions, tomatoes, garlic and mushrooms, perhaps some zucchini for colour.

SERVE WITH: A Shiraz, or Cab Sav....