TASTY PORK SKEWERS WITH CHIPOTLE PEPPER MARINADE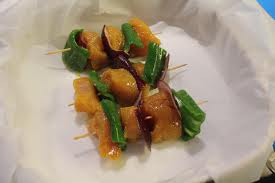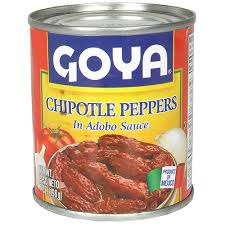 INGREDIENTS: For 4 to 6 people. 400G of diced Pork eye fillet, (or scotch fillet). For the Marinade, 2 Chipotle Peppers (see photo above) and a tbsp of their marinade, half a green Capsicum cut into strips, half an Onion cut into chunks, 2 tbsps of Smoky BBQ Sauce, Juice of half a good Lemon, 1 tsps of crushed Garlic or Garlic Paste, 1 tbsps of Tomato Paste.

METHOD:- Cut the pork into small cubes for skewering. Blitz all the Marinade ingredients in the blender and pour into a mixing bowl. Pop the pork in with the marinade and leave for at least 30 minutes at room temperature, or longer if you wish, even overnight in the fridge...no problem.

Thread the marinaded meat onto water soaked cocktail sticks, alternating with a piece of green capsicum and onion.

Cook the skewers in a hot pan with some olive oil in it, or on the BBQ for a few minutes a side until nicely browned up and the veggies are cooked. Serve either immediately or keep warm in the oven until needed. Use more marinade to dress them if you like.

These Chipotle Chilles have quite a kick, but the kick is not long lasting and the beautiful smokiness of the marinade (or Adobo in Spanish) lends great depth of flavour to the dish...These chilles are sold in our shop and have been a revelation to me since starting to sell them. Hot yes, but they have loads of uses around the kitchen. The Adobo is sensational.