RUSSIAN SALAD (ENSALADILLA RUSA):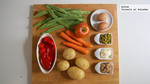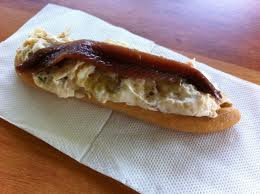 INGREDIENTS FINISHED ARTICLE

For 8 to 10 portions...

INGREDIENTS:- Three small boiled Carrots roughly chopped, 3 small Potatoes boiled and roughly chopped, quarter of a tin of roasted Red Capsicums, 1 tbsps of Cornichons or pickled Gherkins, two hard boiled Eggs, whites removed after boiling, 5 or 6 boiled green Beans, one medium firm Tomato,finely chopped,2 small tins of Tuna, 12 stuffed Olives, half a small tin of green Peas, one cup of Mayonnaise, Salt, Pepper to suit, and some lemon juice or Vinegar to help preserve it all (about half a lemon would do). To dress, one can of Anchovies (optional), and some crispy Italian bread for good crunch...You can substitute anchovies with olives or strips of roasted red capsicums.

METHOD: Keep some roasted red capsicum strips aside for dressing, as well as the egg yolks. Finely chop all ingredients and mix together in a bowl with the Mayonnaise, until everything is evenly distributed and you have a good thick chunky paste. Check for seasoning, as this is very important and you may need to add a little more salt than you are comfortable with..good amount of ground black pepper too. Then transfer to a serving dish. Finely chop the egg yolks until they are almost a powder, and dress the finished salad with them together with the red capsicum strips to make it look nice. It should look similar to this:-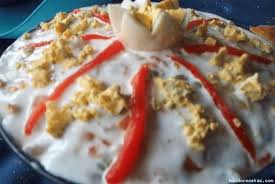 SERVING: eat straight from the dish, or mount onto toast, or onto crispy bread with an anchovy or olive plopped on top, and enjoy !!!