IBERICO HAM & TOMATO PINCHOS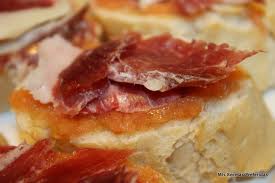 This Tapa uses the finest ingredients, but don't be put off by the headline price of the Iberico Ham (the Black Pig...most prized food in all of Spain). If you ask us to cut it super thin, then $10 worth will make 30 individual Tapas...more than enough to satisfy pre-dinner snacks...and you will certainly be on the welcome receiving end of all the "oohs" and "aahs"...guaranteed each time I serve these up...the quality of the Iberico Ham simply speaks for itself...and this Tapa is really easy to make.

INGREDIENTS: For up to 30 mouthfuls of delicious Tapas:- 100G of Thinly Sliced Iberico Ham, 3 old, soft tomatoes, grated into a bowl. Salt, pepper and the best Olive Oil you possess. One or two French Sticks, cut into thin rounds.

METHOD:- Grate the tomatoes into a bowl and throw away the remaining skins...season with a little salt and pepper. Place a dollop of tomato on each bread round, adorn with a small piece of Iberico ham, and then drizzle a little olive oil over. You can skewer them with a cocktail stick if you please, or just leave them as is...up to you.

IMPORTANT: the Iberico ham MUST be at room temperature before you mount it and eat it, otherwise you will not experience all the subtle layers of flavour this particular ham possesses....
And don't leave them too long without eating or the bread will go soggy.