SALTCOD FRITTERS: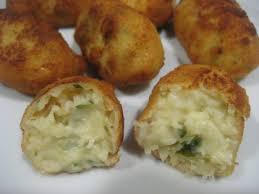 For 8 to 10 portions...

INGREDIENTS:- Buy 400g of Saltcod (AKA: Bacaloa)from Harris Farm in Manly (Seafood shop within the complex)...it's cheap and good from there, although many Seafood Shops have it these days. Don't buy the expensive stuff as it's not worth it in this recipe. 400g of mashed potato, 2 finely chopped Spring Onions / Shallots, pepper, one bunch finely chopped parsley, two eggs, cup of flour, big cup of breadcrumbs.

METHOD: One day in advance, put the saltcod in a big bowl of cold water to soak and rehydrate. Change the water a couple of times if possible.
The next day, shred the salt cod into fine strips. Then combine in a mixing bowl the salt cod, the mashed potato, the onion, pepper and parsley. Check for seasoning - don't put salt in as it's not necessary. Make into small balls and put in the fridge to set for at least 15 minutes...but could be overnight if covered with clingfilm.
When ready to serve, coat each ball with flour, dip in egg and coat generously with breadcrumbs. Fill a deep sided frying pan with an inch or so of vegetable oil and heat to very hot. Cook the codballs in batches of say 4 to 6 until brown and heated through (about 3 to 4 minutes normally). Servewhilst still hot...easiest way is to stick a cocktail stick through the middle.
Use whatever dipping sauce you wish...even tomato ketchup is good...but so is Alioli, or an Asian style dip would also work well...it's really up to you.