SOBRASADA (Spanish Meat Spread) W/ CHEESE ON TOAST: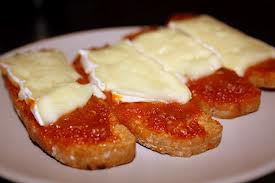 For 8 to 10 portions...

INGREDIENTS:- Buy 250g of Sobrasada paste from the shop, one lemon, some sliced Tasty Cheese (Or could use Haloumi, or Feta, or Manchego...), One French stick cut into rounds.

METHOD: Toast the French stick rounds, and meanwhile fry up the Sobrasada paste for a couple of minutes until cooked through, then spread on the toast and pop some sliced cheese on top and finish off under a hot grill until the cheese is brown or melting. Serve immediately with a squeeze of lemon juice on top.