ROAST RACK OF VEAL WITH PORCINI MUSHROOM STUFFING: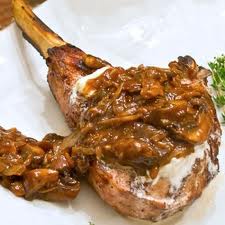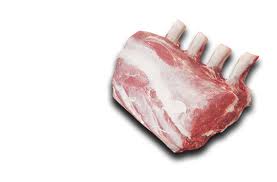 This is a tasty, tender and great value roast, whether for mid-week or a Weekend Dinner Party...we have made it as simple as possible, and as good value as it will ever be..Not ususally on everyone's Culinary Radar Screen, I do recommend you try this one.. It's foolproof !!.
PREP TIME 2 MINUTES, COOK TIME ABOUT 50 MINUTES.

INGREDIENTS (for 4 people): One Four Point Veal Rack, One Portion of 160g of our own Porcini Mushroom Stuffing, Salt, Pepper.
OPTIONAL: you can cut the rack into Cutlets and do them on the Barbie or in the pan if you wish....

METHOD FOR THE VEAL ROAST:-
Brown or seal the Veal Rack in a hot frying pan with some smokingly hot oil, and transfer to a hot, low sided Oven Tray. Season all over, and if you wish, smear some of the Mushroom Stuffing between the Skin and the Flesh of the Rack.
Pop, bone side down, in a hot, preheated oven at 180 to 200degC for 40 to 60 minutes.

Timing for this dish is very personal. I like my veal pink and would have a look at it after 40 minutes..I normally poke a knife in and see how much blood comes out...if there's heaps then I pop it back for a while, but if there's some clear juice amongst the red stuff, then it's rare...if there's loads of clear juice and just a little couloured, then it's medium...if there's little juice coming out then it's well done...Or easier still, you could invest in a meat thermometer... and follow their instructions, but the internal should be around 54degC for rare ranging to 75degC for well done.

For the Mushroom Stuffing, simply warm it up in a microwave and serve. OR !!! If you wanted to be a little more adventurous, you could add a cup of breadcrumbs and a dash of Port or Red Wine and bake it in an oven proof dish in the oven for around 20 minutes.

SERVE WITH: Roast Potatoes, or perhaps those Garlicky Potatoes au Gratin. As for the veggies, I would recommend you go for some minted peas, or roasted pumpkin. In this roast dish, I think that you should make fancy potatoes and let everything else speak for itself...
AND TO DRINK....a soft, fruity red wine...Merlot or Shiraz.